Starting Gate Communications for Equine Canada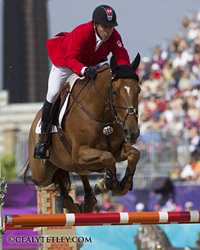 Eric Lamaze of Schomberg, ON, and Derly Chin de Muze.
Photo by Cealy Tetley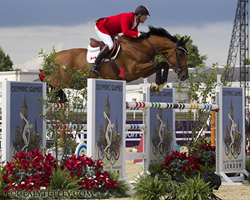 Ian Millar of Perth, ON, and Star Power
.


Photo by Cealy Tetley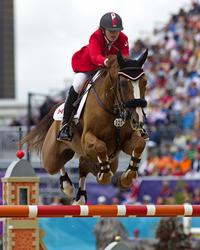 Jill Henslwood and George.
Photo by Cealy Tetley
August 6, 2012 – London, England – With all three scores counting, the Canadian Olympic Team for Show Jumping persevered to finish fifth in the team competition on Monday, August 6, at the 2012 London Olympic Games.

Despite the disqualification of Tiffany Foster of Schomberg, ON, just prior to the start of the first round of team competition on Sunday, her teammates Jill Henselwood of Oxford Mills, ON, defending Olympic Champion Eric Lamaze of Schomberg, ON, and 10-time Canadian Olympian Ian Millar of Perth, ON, rallied to finish fifth overall in the final team standings. All three scores had to be counted as Canada did not have the advantage of a drop score. Canada and Brazil were the only nations competing in Monday's team event with three members.

Entering Monday's Team Final in sixth position carrying a total of five faults, the Canadian Olympic Team for Show Jumping added 21 faults to bring its two-round total to 26 faults. Both Millar and Lamaze qualified to move forward to the two-round Individual Final on Wednesday, August 8.

Setting a world record in London by competing in more Olympic Games than any athlete in any sport, Millar incurred four faults in Monday's competition. His rail came at fence nine 'a', the first element of a double combination.

"It was a regrettable four faults," said Millar, 65. "I thought we were good, to tell you the truth. I heard the rub and wasn't sure if we had it down or not, and I was not about to look over at the scoreboard! In Star Power's history, if he's going to have a rail, he's likely to have it at a tall vertical of the combination."

Millar finished three rounds of individual qualification tied for 11th place with a total of eight faults.

"He gets better every day, and I'm optimistic about Wednesday," said Millar of his Olympic mount Star Power, an 11-year-old Dutch-bred gelding owned by Team Works.

The top 35 athletes from the original starting field of 75, limited to a maximum of three individuals per nation, advance to the two-round Individual Final on Wednesday, August 8. All athletes start with a clean slate of zero penalties.

Lamaze also qualified for the Individual Final with a total of nine faults for 22nd position. Lamaze, who was only carrying one fault coming into Monday's event, had rails down at the 'b' element of the triple combination at fence seven, as well as number 10.

"It was a difficult course for my horse; it was a difficult course for many horses," said Lamaze, 44, of his mount, Derly Chin de Muze, a nine-year-old Belgian Warmblood mare owned by Ashland Stables and Lamaze's Torrey Pines Stable.

As the defending Olympic Champion, Lamaze said of his chances on Wednesday, "My horse is young and inexperienced, but we all start from zero. Anything can happen."

Henselwood, 49, had two rails down, at fence 10 and fence 12, riding George, a 10-year-old Hanoverian gelding owned by Brian Gingras.

"I thought George was awesome," said Henselwood, a member of Canada's silver medal team at the 2008 Beijing Olympic Games riding alongside London teammates Lamaze and Millar. "He's green. He's tried so hard at these Games and with a little more experience, he would jump clear."

In the Team Final, the Olympic equestrian venue of Greenwich Park erupted when Great Britain won the team gold medal in a dramatic jump-off. Both Great Britain and the Netherlands were tied with a total of eight faults following two rounds of team competition to force an all-deciding jump-off.

To the delight of many of the 21,000 spectators, Great Britain finished the jump-off with a perfect score of zero faults to earn its first team gold medal since the 1952 Helsinki Olympic Games. The Netherlands incurred 12 faults in the jump-off to take the team silver. Saudi Arabia earned its first Olympic team medal in show jumping, taking the bronze medal with 14 faults.

Switzerland placed fourth with 16 faults while Canada was fifth with 26 faults. Sweden and the United States tied with 28 faults for sixth while Brazil finished eighth with 67 faults. From the original starting field of 15 nations, eight teams qualified to compete in Monday's Team Final.

The Canadian Olympic Team for Show Jumping is supported by Chef d'Equipe Terrance Millar; Assistant Chef d'Equipe Mark Laskin; Veterinarian Dr. Sylvie Surprenant; Stable Manager Lori Green; and Team Manager Karen Hendry-Ouellette. Grooms include Cristian Canobbio (Foster), Jessica Dooley (Henselwood), Delphine Rouston (Lamaze), Sandy Patterson (Millar) and Anne-Sophie Canut (Candele). Kerri McGregor is the Team Leader for the Canadian Olympic Team for Equestrian and Tina Collins is Assistant Team Leader.
For more information, including results, please visit the equestrian sport section of the official 2012 London Olympic Games website at www.london2012.com/equestrian.
Une cinquième place pour l'équipe olympique canadienne de saut d'obstacles composée de trois cavaliers
6 août 2012 – Londres, Angleterre – L'équipe olympique canadienne de saut d'obstacles composée de trois membres a fait preuve de persévérance aux Jeux olympiques de Londres 2012. Bien que les trois notes comptaient pour le résultat final, l'équipe a réussi à se hisser au cinquième rang ce lundi 6 août.

Malgré la disqualification de Tiffany Foster (Schomberg, ON) survenue juste avant le départ de la première ronde de compétition par équipe, ses coéquipiers Jill Henselwood (Oxford Mills, ON), le champion olympique en titre Éric Lamaze (Schomberg, ON) et l'athlète canadien aux dix participations olympiques Ian Millar (Perth, ON), se sont serré les coudes et ont ainsi permis à l'équipe de prendre la cinquième place. Le Canada n'a pas eu la possibilité de rayer un score, puisque les trois comptaient. Le Canada et le Brésil étaient les seuls pays à faire participer trois cavaliers à l'épreuve d'aujourd'hui.

L'équipe avait un score de cinq points et occupait le sixième rang au début de la finale. Avec un ajout de 21 points, le compte a été porté à 26 points pour les deux rondes de compétition. Millar et Lamaze se sont tous les deux qualifiés pour disputer les deux manches de la finale en individuel qui se déroulera mercredi le 6 août.

Celui qui a établi un record à Londres en tant que l'athlète ayant concouru au plus grand nombre de Jeux olympiques tous sports confondus, Ian Millar, a perdu quatre points en compétition ce lundi. Il a fait tomber la barre de l'obstacle neuf 'a', le premier élément de la combinaison double.

« C'est bien regrettable, a dit le cavalier de 65 ans. J'avoue que je croyais que nous l'avions passé. J'ai entendu le bruit lorsqu'il a touché la barre, mais je n'étais pas certain de l'avoir fait tomber, et je n'ai pas pu regarder le tableau des résultats ! D'habitude, quand Star Power renverse une barre, c'est celle du plus haut vertical de la combinaison. »

Millar a terminé les trois rondes de qualification individuelle à égalité au 11e rang avec huit points au total.

« Il s'améliore de jour en jour et j'ai bon espoir que ça ira bien mercredi », a-t-il dit au sujet de Star Power, le cheval d'origine hollandaise de onze ans de Team Works.


Les 35 premiers athlètes sur les 75 qui ont pris initialement le départ seront invités à disputer le mercredi 8 août la finale de deux manches servant à départager les gagnants en individuel. Mentionnons que les concurrents entreront tous en piste avec une fiche vierge de zéro.

Lamaze s'est également qualifié pour concourir à cette finale, en raison de son résultat de neuf points qui lui a valu la 22e place. Ce cavalier n'avait perdu qu'un seul point avant l'épreuve de lundi mais il a délogé l'élément 'b' du triple à l'obstacle sept, ainsi que le numéro dix.

« Ce fut un parcours difficile pour mon cheval, d'ailleurs plusieurs ont éprouvé des difficultés », a dit le cavalier de 44 ans au sujet de Derly Chin de Muze, la jument warmblood hollandais de neuf ans qui appartient à Artisan Farms ainsi qu'à sa propre écurie, Torrey Pines Stable.

Au sujet de ses chances en tant que champion olympique en titre lors de l'épreuve de mercredi, il a ajouté :« Mon cheval est jeune et inexpérimenté, mais nous partons chacun avec un score de zéro. Tout peut arriver. »


Henselwood, 49 ans, a heurté deux obstacles, le dixième et le douzième, sur George, l'Hanovrien de dix ans de Brian Gingras.

« Je pense que George a été extraordinaire, » a dit celle qui a été médaillée d'argent aux Jeux olympiques de Pékin en 2008, aux côtés de ses coéquipiers Lamaze et Millar. « Il est encore débutant et pourtant, il a travaillé tellement fort à ces Jeux. Avec un tout petit peu plus d'expérience, il n'aurait commis aucune erreur. »


Le stade du site équestre de Greenwich Park a littéralement explosé lorsque la Grande-Bretagne a remporté la médaille d'or en finale, après un barrage spectaculaire. La Grande-Bretagne et les Pays-Bas étaient à égalité avec chacun huit points à l'issue de l'épreuve, ce qui a amené la tenue d'un barrage.


Les quelque 21 000 spectateurs ont été transportés de joie lorsque le barrage a pris fin et que la Grande-Bretagne a été médaillée d'or grâce à un score parfait de zéro. Il s'agissait de la première médaille d'or de l'équipe britannique depuis les Jeux olympiques de Helsinki en 1952. Les Pays-Bas ont obtenu 12 points au barrage et ont ainsi été médaillés d'argent. L'Arabie Saoudite a gagné sa première médaille olympique en saut d'obstacles, une médaille de bronze (14 points).


La Suisse s'est classée quatrième (16 points) et le Canada, cinquième, avec 26 points. La Suède et les États-Unis sont à égalité au sixième rang (28 points) tandis que le Brésil occupe la huitième place avec 67 points. Des 15 pays ayant pris le départ de la compétition par équipe, huit équipes se sont qualifiées pour la finale de lundi.

L'équipe olympique canadienne de saut d'obstacles bénéficie du soutien de Terrance Millar, chef d'équipe, Mark Laskin, chef d'équipe adjoint, Dre Sylvie Surprenant, vétérinaire, Lori Green, gérante d'écurie et de Karen Hendry-Ouellette, gérante de l'équipe. Les grooms sont : Cristian Canobbio (Foster), Jessica Dooley (Henselwood), Delphine Roustan (Lamaze), Sandy Patterson (Millar) et Anne-Sophie Canut (Candele). Kerri McGregor est la responsable de l'équipe équestre canadienne en sports équestres et Tina Collins agit en tant que responsable adjointe.
Pour toute information et pour connaître les résultats, veuillez consulter la section des sports équestres du site Web officiel des Jeux olympiques de Londres, au
www.london2010.com/equestrian.