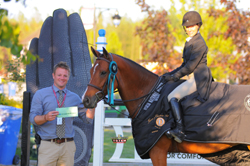 Lisa Williams claims a $500 SSG Riding Gloves bonus from Thunderbird Show Park's Chris Pack after winning the $2,500 USHJA National Hunter Derby on Saturday, May 26..


Photo by Totem Photographics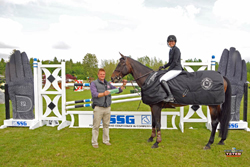 Jenn Serek picks up a $1,000 SSG Riding Gloves bonus after winning the $25,000 Canadian Premier Grand Prix on Sunday, May 27.


Photo by Totem Photographics
May 30, 2012 – Langley, BC – Lisa Williams and Jenn Serek were the first winners of the year in the SSG Riding Gloves 'Go Clean for the Green' promotion held during the 2012 show season at Thunderbird Show Park in Langley, BC.
Williams of Victoria, BC, wore SSG 'Digital' Riding Gloves on her way to winning the $2,500 USHJA National Hunter Derby held Saturday, May 26. As a result, she was awarded a $500 cash bonus from leading Canadian riding glove manufacturer, SSG Riding Gloves. Williams and her winning mount, Fleetstreet, a 12-year-old Dutch Warmblood, have been partnered together for the past three seasons.
"They are the perfect gloves for west coast weather," said Williams of her SSG 'Digitals'. "Whether it's sunshine or rain, I can count on my SSG 'Digitals' to perform under all conditions."
On Sunday, May, 27, Jenn Serek riding Eleanora won the first grand prix event of the season, the $25,000 Canadian Premier Grand Prix. Wearing SSG 'Digital' gloves on her way to victory, Serek picked up an added bonus of $1,000 from SSG Riding Gloves.
"I am very thankful to SSG for their sponsorship of this class," said Serek, who operates Springbank Stables south of Calgary, AB. "All of my students wear SSG gloves. Their performance and good grip make them my glove of choice."
2012 marks the second year in a row that SSG Riding Gloves has offered $9,000 in bonus money through its 'Go Clean for the Green' promotion to riders competing at Thunderbird Show Park. In an incentive program designed to reward competitors for their loyalty to the SSG Riding Gloves brand, SSG will offer a bonus of $1,000 to the winning rider in designated grand prix events if they are wearing SSG 'Digital' Riding Gloves with the horse head logo clearly visible. If the winning rider is not wearing SSG 'Digital' Riding Gloves, the bonus money is carried forward to the next event, increasing from $1,000 to $2,000, etc. The same format applies to designated hunter events, where a $500 bonus is on offer.
The following events are still to come in the 2012 SSG Riding Gloves 'Go Clean for the Green' promotion at Thunderbird Show Park:
CSI-W** BC Open – May 30 – June 3
$32,000 CSI2* Thunderbird Spring Classic
$2,500 Canadian Hunter Derby
West Coast Classic – June 27 – July1
$10,000 Super Save Grand Prix
$5,000 Cobblestone Hunter Derby
Western Family Festival – July 4 – 8
$10,000 Facet Advisors Grand Prix
$1,500 Canadian Hunter Derby
CSI** & WCHR Fort Summer Classic – August 15 – 19
$50,000 Dianne Tidball Legacy Grand Prix
$15,000 USHJA International Hunter Derby
CSI-W** Fort Summer Festival – August 22 – 26
$100,000 CSI2* Fortress Paper World Cup
$5,000 Jump Canada Classic Hunter Derby
SSG 'Digital' Riding Gloves are available for purchase on-site at Thunderbird Show Park at the Thunderbird Tack Shop, Bates Tack Shop, the Dog and Pony Shop, Equestrian Factory Outlet, Equi-Products, and Greenhawk Harness and Equestrian Supplies.
Please refer to the 2012 Thunderbird Show Park prize lists for complete class details. For further information, contact Jennifer Ward, Starting Gate Communications, at cell: 613 292-5439 or jward@startinggate.ca.