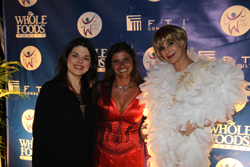 JustWorld International Executive Director Jessica Newman (center) with Hilary Betaille (left) and JustWorld Rider Ambassador Francie Steinwedell-Carvin
.
Photo by

Sportfot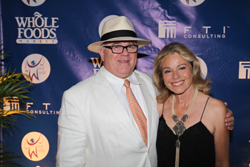 JustWorld Technical Ambassador Phil Rozon with hostess Maria Newman of Belle Herbe Farm.
Photo by

Sportfot
Mary Katherine and Dennis Shaughnessy of FTI Consulting, presenting sponsor of the Ninth Annual JustWorld International Fundraising Gala.
Photo by

Sportfot
January 25, 2012 – Wellington, FL – Over $280,000 was raised at the Ninth Annual JustWorld International Fundraising Gala held Friday, January 20, in Wellington, Florida. JustWorld International is a not-for-profit, humanitarian organization working as a catalyst for positive change in the developing world by helping impoverished children.
More than 650 guests enjoyed an evening in the bygone era of the flapper at the 1920's-themed event hosted by Maria Newman at her beautiful Belle Herbe Farm in Grand Prix Village. Renowned event planners, Dazzle Creative Events, created a 'Speakeasy' vibe that was reflected through food, drinks, specialty entertainment and a casino with 14 gaming tables. Presented by FTI Consulting, Whole Foods of Wellington, and Caryl Philips and Frank Zeiss, the evening was an overwhelming success, raising $280,360 towards JustWorld project sites in Brazil, Cambodia, Guatemala, and Honduras.
The silent auction raised $27,640 and featured highly sought-after items such as a bronze statue by Mary Sand Studio won by Carolyn Darby; a commissioned portrait by Jocelyn Sanders won by Bonnie Johnson; and a photograph by Shelli Breidenbach won by Matthew Marano.
The bidding was hot in the live auction raising a total of $22,850 for the seven items offered. Attracting the highest bids were a Boston Bruins hockey package including tickets and one night's accommodation at the unique Liberty Hotel won by the Graham family; a three-night stay at the Chateau Canisy in Normandy, France, won by Alexandra Pozzo; and a VIP chalet table with parking pass for the 2012 Hampton Classic Horse Show won by Pedro Torres.
Six of the lucky guests left with prizes from the event's casino raffle including an autographed poster of the 2011 Pan American gold medal team won by Tuny Page; a VIP table at the PBIEC Jockey Club during WEF week VI won by Teresa Mills; a Nespresso Pixie machine won by Bhaskar Dasgupta; a "New Year's Resolution" gift basket won by Frank Zeiss; a horse-themed slot machine won by Louie Jacobs; and a foursome of golf at the Emerald Dunes golf course won by Nina Montross.
Several JustWorld Junior Ambassadors were on hand to help ensure the evening's success, visiting the tables to explain the various project sites and encouraging donations through the JustWorld 'Adopt-A-Project' initiative. An additional $10,380 was donated by generous guests who happily support JustWorld's initiatives, bringing the grand total raised for the evening to $280,360.
"I am simply overwhelmed by the enormous amount of support that the Wellington and equestrian communities have shown us," said Jessica Newman, Executive Director of JustWorld International. "It is incredible to think that we are now in our ninth year, yet we still keep growing and growing. This was our biggest and most successful fundraising gala yet! I can't thank everyone enough, from our generous sponsors, Gala committee members, donors and guests, to our team of JustWorld Ambassadors, staff and volunteers, who never cease to amaze me with their commitment and endless energy for the work that we do."
With show jumping riders around the world signing up to become JustWorld Rider Ambassadors, Newman has mobilized some of the sport's biggest names towards supporting JustWorld's projects. There are currently more than 480 Rider Ambassadors from 37 different countries, ranging from nine-year-old pony riders to Olympic medalists, who help bring attention to JustWorld International's cause and support its project sites in Brazil, Cambodia, Guatemala and Honduras.
In addition to presenting sponsors FTI Consulting, Whole Foods of Wellington, and Caryl Philips and Frank Zeiss, JustWorld International would like to recognize Hilton Worldwide and The Hampton Group for their sponsorship of the silent auction, as well as its generous in-kind sponsors Dazzle Creative Events, Sportfot Photography, and Wellington Golf Cars.
JustWorld would also like to recognize its Platinum level sponsors Belle Herbe Farm, Cloud Hill Farm, and Joan and Ernest Kalman; its Gold level sponsors the Baumann family, Bur Oak, LLC and Rood & Riddle Equine Hospital, Equestrian Sport Productions and the Crown family, the Kessler family, Jessica Newman, the Reid family, Warm Wind Farm, Hilton Worldwide, and Muscles by Meyers. Patron level sponsors included Arlette Rigby, Artisan Farms, the Beaumont/Link families, Brigadoon, the Burkman/Eaman families, David Page, Equine MRI of Palm Beach and Equine Services Ltd, Floridian Community Bank, Higher Ground Farm, Horseware Ireland, Louisburg Farm, Martha Jolicoeur/Illustrated Properties, Mershad Stables, the Morrissey family, Palm Beach Equine Clinic, the Paradysz family, Private Tutoring Services, Quiet Corner Farm, the Schroeder family, Spencer Ranch, the Strauss family, Triple Crown/BuildYourOwnBlanket.com, Monica Wagner, the Zachowski family and the Zeidler family.
About JustWorld International
Founded in 2003, JustWorld International raises awareness and funds in the equestrian community to support humanitarian projects that benefit impoverished communities and children in the developing world. Cooperating with local partners, JustWorld International implements sustainable, culturally sensitive education, health and vocational projects. For more information on JustWorld International, please visit www.justworldinternational.org.
About FTI Consulting
FTI Consulting, Inc. is a global business advisory firm dedicated to helping organizations protect and enhance enterprise value in an increasingly complex legal, regulatory and economic environment. With more than 3,800 employees located in 24 countries, FTI Consulting professionals work closely with clients to anticipate, illuminate and overcome complex business challenges in areas such as investigations, litigation, mergers and acquisitions, regulatory issues, reputation management, strategic communications and restructuring. The company generated $1.4 billion in revenues during fiscal year 2010. More information can be found at www.fticonsulting.com.