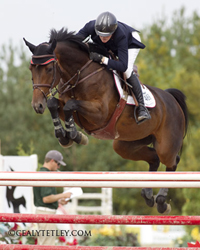 Beth Underhill and Nicole Walker's Celline 2 won the Seven and Eight-Year-Old Jump Canada Young Horse National Final on September 25 at the Canadian Show Jumping Tournament in Palgrave, ON.


Photo By

Cealy Tetley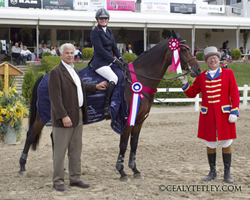 Beth Underhill and Celline 2 are presented as the Seven and Eight-Year-Old National Champions by Gary van Bolderen of Dutch Masters Construction Services at the Canadian Show Jumping Tournament in Palgrave, ON.
Photo By Cealy Tetley

September 29, 2011 – Palgrave, ON – Celline 2, ridden by Beth Underhill of Schomberg, ON, was crowned the Seven and Eight-Year-Old Young Horse National Champion in the $51,000 Jump Canada Young Horse Series National Finals held September 21 to 25 at the Canadian Show Jumping Tournament in Palgrave, ON.

Comprised of three phases held on Thursday, Friday and Sunday, the Seven and Eight-Year-Old Division of the Jump Canada Young Horse Series National Finals featured a total of $17,000 in prize money. All three phases were held in the grand prix ring at the Caledon Equestrian Park over courses set by two-time Olympic course designer Leopoldo Palacios of Venezuela, with Sunday's final held immediately before the $50,000 Caledon Cup Grand Prix. Points were accumulated throughout the three days of competition. A total of 20 horse-rider combinations contested the Seven and Eight-Year-Old National Final.

Having placed sixth in both the first and second phases of competition, Underhill and Celline 2 won the final phase on Sunday with the only double clear performance of the day. Their consistent performances over all three phases gave Underhill and Celline 2 the Seven and Eight-Year-Old National Championship title.

"She was extremely consistent," said Underhill of the seven-year-old Oldenburg mare. "She did not have a jump down over the entire weekend. She jumped clean every time out. She just felt better and better each day, particularly the last two rounds. She was spectacular and didn't give me a bad moment anywhere."

Underhill began riding Celline 2 in December of 2010 for owner Nicole Walker of Aurora, ON. The pair won the opening event in the central region of the Jump Canada Young Horse Series at the Summer Classic in Palgrave, ON, to qualify for the National Finals.

Of the three-day format, Underhill said, "it's a great format for the young horses because it builds excitement for the owners and spectators. It's like a proper championship. It's realistic in that the horses have to be on their game and consistent throughout, and the courses build and get more difficult. It's really a great test for them."

Bred in Germany, Celline 2 is by Continue and out of a Juventus dam. Now that the show season has wrapped up, Underhill will hand Celline 2's reins over to Walker. The 2010 Jump Canada Medal Final winner plans to show Celline 2 in the high amateur divisions next year, ultimately hoping to move into the grand prix ring.

"We couldn't be more thrilled with how she's done this season and how she's turned out," said Underhill, who represented Canada at the 1992 Olympic Games in Barcelona. "She's had two foals, so this was really a great mileage booster for her. I am very pleased with this mare and think she'll be a top mount for Nicole."

The Reserve Championship title went to Sera, ridden by Erynn Ballard of Tottenham, ON. The pair placed fourth, fifth and sixth in each of the phases, with their consistency giving them the edge over the winners of the first and second phases of competition, Jeff Brandmaier aboard Damiro Van Ter Notelaere who finished third overall, and Roberto Teran riding Sioux de Ambar Z, who finished fourth in the final standings.

"I like that the finals are held over three days because it's not always the winner on any given day that's the best horse, it's the best horse throughout a series of classes," remarked Ballard, who has been riding Sera since the mare was a five-year-old. "Any major championship has more then one round, so it is good place to start to train the horses to be ready to jump at their best in more than one class a week. Sera had a clear round in all three phases, and some bad luck in the jump-off's kept us from being the winner."

A seven-year-old Canadian Warmblood mare by Escudo and out of a Lacros dam, Sera is owned by breeder Braeburn Farms in Collingwood, ON. She was also the top ranked Canadian-bred horse in the final standings for the Seven and Eight-Year-Old National Championships.

"She is the first crop of Braeburn's offspring and I think they are thrilled to have produced a horse that has the ability to perform at the highest level of sport," Ballard said. "As a breeder, I think that anything you produce should be a winner wherever their abilities are best suited. Braeburn has produced winners in the hunter and jumper divisions, as well as some that have excelled in eventing. They should be very proud of what they have produced, and I know they are looking forward to the future."

As for Ballard and Sera, the future could mean improving on this year's results. "Sera will be geared towards the eight-year-old final in Wellington, Florida, next winter with the hopes of moving into the 1.40m division," explained Ballard. "Her summer will work around the eight-year-old final in September next year. She has been developed through the Young Horse Series in Ontario as well as in Wellington, Florida, and is a great example of why the young horse classes are so important."

The purpose of the Jump Canada Young Horse Series is to encourage the development of young show jumping talent and to give Canadian breeders additional incentives to breed superior show jumping prospects. Competing on a level playing field, the horses are divided according to age and jump at a level suited to their development. This careful development allows the horses to gain valuable experience and advance to the higher levels of show jumping competition with confidence. The Jump Canada Young Horse Series also gives prospective buyers for the hunter and jumper markets an opportunity to view a large group of prospects in a competition setting.

For more information on the Jump Canada Young Horse Series, please visit http://equinecanada.ca/jumpcanada/index.php?option=com_content&view=category&id=88&Itemid= 3&lang=en

Seven and Eight-Year-Old National Finals – Final Standings

Horse Owner Rider

Champion Celline 2 Nicole Walker Beth Underhill

Reserve Sera* Braeburn Farms Erynn Ballard

3. Damiro van ter Notelaere Knightwood Stables Jeff Brandmaier

4. Sioux de Ambar Z Bob Suriwka Roberto Teran

5. Casius Clay* Lyda Bostock Yann Candele

6. Underground des Hauts Droits Ferme Lamontagne Francois Lamontagne

7. Barretta* Cimarron Farms Kelley Robinson

8. Wennous Looking Good Group Erynn Ballard

9. Argento* Chor-Be Farm Gregory Kuti

10. Ruby Tuesday* Mill Creek Stables Robert Donaldson

NOTE – The star * beside a horse's name denotes that it is Canadian-bred.