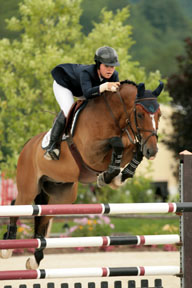 Hillary Dobbs and Marengo capped off the 2009 Vermont Summer Festival by winning the $50,000 Vermont Summer Celebration Grand Prix on Sunday, August 9, in East Dorset, VT.
Photo Credit - David Mullinix Photography
August 13, 2009 – East Dorset, Vermont – Hillary Dobbs of Sussex, NJ, had no one to beat but herself as she sped around the course to take first and second place in the $50,000 Vermont Summer Celebration Grand Prix, the final event of the six-week Vermont Summer Festival in East Dorset, VT.

>From a starting field of 22, eight horse and rider combinations managed to deliver clear rounds over the course set by Pierre Jolicoeur. Dobbs qualified three horses for the jump off, and it was the speedy Marengo who took the top prize, turning in a fault-free performance in a time of 37.86 seconds. Marengo seemed to know that he had the winning time, letting out a huge buck as he crossed through the timers.

Dobbs also took second place on Corlett. The first horse back for the jump-off, Corlett posted a clear round in a time of 39.85 seconds.

Danielle Torano of Ft. Lauderdale, FL, and her stallion, Vancouver d'Auvray, left all the rails in place and, even though they were decidedly slower, their time of 40.79 seconds was good enough for third place.

"My parents missed the Grand Prix last week, so I am really excited that they were here this week to see this," said Dobbs, who also won the $30,000 Manchester & The Mountains Grand Prix during week five with Marengo. "Marengo is a special horse. He's so good at the speed, at the turns, and he is as competitive as I am. He looks to turn after a jump, and he pins his ears and bucks after the timers. This is the best he has ever felt. I am so happy with this horse. To win one of the Grand Prix events in Vermont is great, let alone two."

On Friday of Week Six, Dobbs also raced through the timers with Marengo to win the $10,000 Polo Ralph Lauren Welcome Stake, Presented by Manchester Design Outlets.

Dobbs broke the stranglehold that her stable mate, Darragh Kenny, has had in the Friday feature event – the Irish rider had won all three of the Welcome Stake competitions that he had contested. Dobbs, however, denied him a fourth victory, instead pushing him into second place with Obelix.

In addition to $3,000 in prize money for her victory, Dobbs was presented with a $1,000 gift card from Polo Ralph Lauren. As Dobbs removed the glove from her right-hand, which had the last two fingers cut off to make room for the splint on her fingers, she stated emphatically, "I'll be doing some shopping!"

For the sixth week in a row, Alissa Kinsey of Fort Meyers, FL, and Grisset won the $2,500 Marshall & Sterling Adult Amateur Jumper Classic on Saturday, August, 8, during the final week of competition at the Vermont Summer Festival in East Dorset, VT.

With a perfect record of six victories in six weeks, Kinsey and Grisset also clinched the Circuit Championship title in the High Adult Amateur Jumper division. Over six weeks of competition, Kinsey and Grisset never even had a rail down in the $2,500 Marshall & Sterling Adult Amateur Jumper Classics.

"We've really had a groove every weekend," said Kinsey, shaking her head in wonder over her perfect record. "It wouldn't be a sport if the rails never fell but, for the past six weeks, it is really amazing that, in this class, none have. What a record!"

In the hunter divisions, championship titles as well as Circuit Champion Awards were handed out to the top point earners.

First Year Green Hunter competitors finished their division with Caitlin Venezia and Fair Wind adding a Reserve Championship title to their tally of awards. The pair has been on the show grounds for the entire Vermont Summer Festival and competed in four out of the six weeks. As a result, they amassed the necessary points to win the overall First Year Green Circuit Championship title.

Venezia, who rides out of her family's Holly Hill Farm in Marston Mills, MA, has piloted Fair Wind to all of his career wins for owner Christine Mac Farland. Venezia started competing the seven-year-old Dutch Warmblood gelding in the First Year Green division in May, and has since consistently won several blue ribbons.

"He is really an old soul," said Venezia. "He is the first young horse that I have ridden that has been this good. He is a quick study and has the mind, not to mention the style and temperament, to be the ultimate junior hunter. His stride, way of going and expression are just perfect. He is such a pleasure to work with."

In the Green Conformation Hunter division, Frontman was awarded the Circuit Championship title. Owner Charlotte Williams of Fulton, MD, could not have been prouder of her six-year-old bay gelding.

"He just loves to show off," said Williams. "Linda Orton shows him in the Conformation and I show him in the Adult division. All of this just seems to suit him. He especially loves the handy hunter rounds, probably because he has a short attention span, but as young as he is, that is fine. I just love him."

The winner of the Second Year Green Hunter Circuit Championship was Bruce Wayne ridden by Mary Lisa Leffler of Brookeville, MD, for owner Nicole Wood. The horse has many of the characteristics of his namesake including being handsome, smooth and suave as he goes about his job.

Bantry Bay earned the Circuit Championship title in the Regular Working Hunter division. Owned by Courtney Plutte of Darien, CT, Bantry Bay was consistently in the ribbons under rider Kim Mulligan to earn the overall title.
The 2009 Vermont Summer Festival, held for its 17th year at Harold Beebe Farm in East Dorset, offered over $750,000 in prize money throughout the six weeks of competition, making it the richest sporting event in the state. In 2010, the Vermont Summer Festival will again offer six weeks of competition from July 7 to August 15. Visit www.vt-summerfestival.com for more information, including full results.