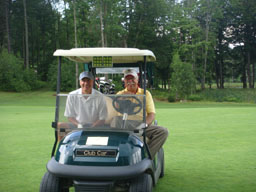 Mario Deslauriers and Leopoldo Palacios participated in the JustWorld International golf tournament held July 27 in Bromont, QC.
August 1, 2009 – Bromont, Quebec – JustWorld International staged numerous awareness and fundraising activities during the CSI International Bromont Show Jumping Tournament held in July in Bromont, QC. JustWorld International is a not-for-profit, humanitarian organization working as a catalyst for positive change in the developing world by helping underprivileged children.

A signature Horseless Horse Show and a golf tournament were held for the benefit of JustWorld International. On Saturday, July 25, JustWorld's popular Horseless Horse Show, which sees people compete on foot over miniature jumps, was held following the popular Speed Derby, which was won by JustWorld Rider Ambassador Andres Rodriguez of Venezuela. The course was designed by two-time Olympic course designer and JustWorld Board member, Leopoldo Palacios of Venezuela, while Gerald Kuh of Hong Kong and Phillip Rozon of Canada, both JustWorld Technical Ambassadors, acted as judges.

People of all ages took turns competing over the courses in the various divisions including Short Stirrup, Children's Jumpers, and High Jump competition. However, it was the pair's relay that provided that most entertainment with such well-known Canadian equestrian figures such as Mario Deslauriers, Jay Hayes, Mike Lawrence, Sue Ockendon and Yves Rossier racing over the jumps and passing off the baton to their partner.

On Monday, July 27, a golf tournament organized by Rozon, who is an international judge, was held at the beautiful Knowlton Golf and Country Club. American grand prix rider Tim Hooker joined Deslauriers, Hayes, Lawrence, Palacios, and many others for a fun day of golf that raised nearly $4,000 for JustWorld project sites in such nations as Brazil, Cambodia, Guatemala, Honduras and Senegal.

All participants were given a golf belt courtesy of Landes Canada while Stephanie Poupart won a pair of ProChaps and Mike Paget won an Ogilvy saddle pad. VIP passes to Calgary's Spruce Meadows "Masters" Tournament in September were won by Joe Russo while Charles Andre Cantin won VIP passes for the 2010 Winter Equestrian Festival in Wellington, FL.

JustWorld also had the opportunity to welcome several new Canadians to its ever-growing roster of Rider Ambassadors. 2003 Pan American Games competitor Mark Samuel was among those who completed his official application.

"I have been well aware of Jessica's work for many years now through my participation in partner horse shows and fundraising events," said Samuel. "Show jumping is a highly visible sport and a great platform to promote a worthy cause. I have observed and respected JustWorld's mission and activities and am proud to have my name associated with them."

Canada will be treated to another Horseless Horse Show during the National Capital Show Jumping Tournament in Ottawa, ON. Always a crowd pleaser, the Horseless Horse Show will take place on the evening on Friday, August 14, in the grand prix ring, following the fun-filled Groom's Class. The Horseless Horse Show, sponsored by Brookstreet Hotel, invites children of all ages to participate on foot in a variety of different classes including Short Stirrup, Children's Jumper, High Jump, Pair Relay and the Grand Prix. The miniature obstacles will be set by internationally renowned course designer Guilherme Jorge of Brazil.

Founded in 2002 by former grand prix competitor Jessica Newman, JustWorld International raises awareness and funds in the equestrian community to support humanitarian projects that benefit impoverished communities and children in the developing world. Cooperating with local partners, JustWorld International implements sustainable, culturally sensitive education, health and vocational projects. For more information on JustWorld International and its upcoming fundraising events, or details on new project adoption opportunities, please visit www.justworldinternational.org.