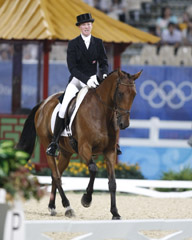 Selena O'Hanlon and Colombo are the highest placed members of the Canadian Eventing Team, ranked 20th, following the opening phase of dressage.
Photo by Cealy Tetley, www.tetleyphoto.com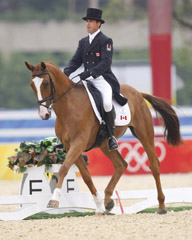 Canadian Eventing Team member Michael Winter riding Kingpin is currently ranked 28th at the 2008 Olympic Games.
Photo by Cealy Tetley, www.tetleyphoto.com
August 10, 2008 – Hong Kong, China
– Selena O'Hanlon, 27, of Elgin, ON, is the top-ranked member of the Canadian Eventing Team following the opening phase of dressage at the 2008 Olympic Games. Equestrian events are being held at the Sha Tin venue in Hong Kong.
Dressage, the first of three phases comprising the sport of eventing, was held on Saturday and Sunday. At the conclusion, O'Hanlon was the highest placed Canadian, sitting in 20th position with a score of 44.10 penalty points riding Colombo, a 13-year-old Swedish Warmblood gelding owned by Elaine and Michael Davies. O'Hanlon competed on Saturday, as did Sandra Donnelly, 38, of Calgary, AB, who is currently ranked 58th with a score of 60.20 riding Buenos Aires, an 11-year-old Canadian Warmblood gelding, and Kyle Carter, 39, also of Calgary, AB, who is currently in 61st place with a score of 63.50 riding Madison Park, a 10-year-old thoroughbred gelding owned by Carter and Nicole Shinton.
The remaining two members of the Canadian Eventing Team, Samantha Taylor of Richmond, BC, and Michael Winter of Toronto, ON, competed on Sunday morning. Taylor, 25, was the second competitor in the stadium. Riding Livewire, a 10-year-old thoroughbred gelding bred in British Columbia, Taylor received a score of 70.70 penalty points to place 66th overall.
"This is definitely the earliest dressage test I have ever ridden," smiled Taylor, who entered the stadium at 6:37 a.m. "The trot work was very good, but Livewire got a bit 'buzzy' in the canter. This is by far the biggest atmosphere he's ever been in."
Winter, 33, was the final member of the Canadian Eventing Team to appear before the panel of three international judges. Riding Kingpin, a 12-year-old Irish Sport Horse gelding owned by The Kingpin Syndicate, Winter produced a solid dressage test to earn a score of 48.90 penalty points and tie for 28th position.
Looking forward to Monday's cross-country phase, Winter will be riding in the anchor position for Canada. Before he sets out on course with Kingpin, Winter will have walked the cross-country course, featuring 39 jumping efforts placed over a total distance of 4,560 meters, a total of five times. It is anticipated that competitors will have difficulty crossing the finish line within the optimum time of eight minutes.
"It is an interesting course," said Winter of the track designed by Michael Etherington-Smith of Great Britain. "I feel prepared. Anything can happen on the day. The options are very time consuming. If you want to come close to the clock, you might be able to take one option, but I really think you are going to have to lay it on the line in order to make the time."
Having competed at the 2004 Olympic Games as well at the 2003 and 2007 Pan American Games where he was a member of Canada's Silver Medal Team on both occasions, Winter is the most experienced member of the Canadian Eventing Team.
"I am comfortable competing wherever they want to put me," said Winter of riding in the anchor position. "I realize that the plan may change and I have to be adaptable. Plan A has to be as solid in my mind as plan b, and plan b has to be as solid in my mind as plan c."
Eventing is comprised of three phases of competition held consecutively – dressage, cross-country and show jumping. At the 2008 Olympic Games, 70 horses representing 24 nations are competing. Cross-country will take place on Monday at the Beas River equestrian venue while the final phase, show jumping, will be held on Tuesday back at Sha Tin, the main Olympic equestrian venue. Team and Individual Medals will be awarded following the conclusion of Tuesday's competition.
Following dressage, Canada's combined team score of 153.20 places it ninth overall among the 11 nations fielding teams. Teams are comprised of five horse-rider combinations and the best three scores are counted towards the team result. Australia currently leads the way with a score of 102.80 penalty points followed by Germany in second with 110.50. The United States sits third with 115.60.
In the Individual standings, Lucinda Fredericks of Australia is at the top of the leader board with 30.40 penalty points following her dressage test with Headley Britannia. Belgium's Karin Donckers is second with 31.70 riding Gazelle de la Brasserie while Germany's Ingrid Klimke is third with a score of 33.50 earned riding Abraxxas.
For more information, including live results, please visit
www.fei.org/olympics
.
2008 Olympic Games – Provisional Individual Eventing Standings Following Dressage

Rider Country Horse Score
1. Lucinda Fredericks Australia Headley Britannia 30.40
2. Karin Donckers Belgium Gazelle de la Brasserie 31.70
3. Ingrid Klimke Germany Abraxxas 33.50
4. Megan Jones Australia Irish Jester 35.40
5. Rebecca Holder United States Courageous Comet 35.70
6. Clayton Fredericks Australia Ben Along Time 37.00
20. Selena O'Hanlon Elgin, ON Colombo 44.10
28. (tie) Michael Winter Toronto, ON Kingpin 48.90
58. Sandra Donnelly Calgary, AB Buenos Aires 60.20
61. Kyle Carter Calgary, AB Madison Park 63.50
66. Samantha Taylor Richmond, BC Livewire 70.70
---
JEUX OLYMPIQUES 2008
Selena O'Hanlon au premier rang de l'équipe canadienne de concours complet


Hong Kong, Chine, le 10 août 2008 - En compétition équestre aux Jeux olympiques de 2008, Selena O'Hanlon (Elgin, Ontario) détient le premier rang dans l'équipe canadienne de concours complet après la phase de dressage. Les épreuves équestres se déroulent sur le site de Sha Tin à Hong Kong.

Le dressage, qui est la première des trois phases composant le sport de concours complet, a eu lieu en deux étapes, soit samedi et dimanche, et c'est cette cavalière de 27 ans qui a obtenu la meilleure note chez les Canadiens. Les juges lui ont en effet octroyé 44,10 points de pénalité, ce qui lui a valu la 20e position à bord de Colombo, un Warmblood suédois de 13 ans dont Elaine et Michael Davies sont propriétaires. O'Hanlon a pris part au dressage samedi, tout comme Sandra Donnelly, 38 ans, de Calgary, Alberta, qui s'est classée 58e avec un résultat de 60,20 sur Buenos Aires, un Warmblood canadien de onze ans, et Kyle Carter, 39 ans, également de Calgary, qui occupe la 61e place (63,50) sur Madison Park, un Pur-sang de dix ans dont il partage la propriété avec Nicole Shinton.

Les deux autres membres de l'équipe canadienne de concours complet, Samantha Taylor (Richmond, Colombie-Britannique) et Michael Winter (Toronto, Ontario), ont participé au dressage dans l'avant-midi de dimanche. Taylor, 25 ans, qui était la deuxième concurrente à entrer dans la carrière de dressage, a enregistré 70,70 points de pénalité sur Livewire, un Pur-sang de dix ans élevé en Colombie-Britannique, et s'est classée 66e.

« J'étais dans la carrière à 6 h 37 ce matin pour exécuter ma reprise, ce qui ne m'était jamais arrivé auparavant », a dit la cavalière. « Le travail au trot s'est bien déroulé, mais Livewire s'est un peu emporté au galop car il s'agit de l'atmosphère la plus effervescente qu'il ait jamais vue. »

Winter, 33 ans, était le dernier Canadien à faire son apparition en piste devant les trois juges internationaux. Il montait Kingpin, le cheval de sport irlandais de 12 ans du Kingpin Syndicate. Grâce à une bonne reprise de dressage, le couple s'est mérité 48,90 points de pénalité et la 28e position ex æquo.

C'est lundi que se déroulera la phase de cross-country où Winter sera le dernier Canadien à prendre le départ. Avant d'entreprendre le parcours avec Kingpin, Winter aura analysé cinq fois les 39 efforts de saut érigés sur une distance totale de 4 560 mètres. On s'attend à ce que les concurrents aient de la difficulté à franchir la ligne d'arrivée dans le temps imparti de huit minutes.

« C'est un parcours intéressant », a commenté Winter au sujet de la piste créée par le Britannique Michael Etherington-Smith. « Je me sens d'attaque, bien qu'on ne sache pas exactement ce qui nous attend. Les options coûteront cher en temps, alors un concurrent qui veut avoir un bon chrono peut choisir de sauter l'une des options, mais je crois vraiment qu'il devra s'en tenir au parcours principal pour éviter tout dépassement de temps. »

Ayant participé aux Jeux olympiques de 2004, ainsi qu'aux Jeux panaméricains de 2003 et 2007 où il faisait partie de l'équipe canadienne qui a été médaillée d'argent à ces deux occasions, Winter est celui qui a le plus d'expérience dans l'équipe actuelle.

« Je me sens à l'aise de concourir dans n'importe quelle position », dit-il en faisant référence à sa position de dernier partant. « Je réalise que la stratégie peut être modifiée, alors je dois m'adapter. Le plan A doit être aussi bien ancré dans mon esprit que le plan B, tout comme peut l'être le plan C. »

Le concours complet est un sport qui comprend trois phases tenues consécutivement – le dressage, le cross-country et le saut d'obstacles. Aux Jeux olympiques de 2008, 70 chevaux représentant 24 nations participent en concours complet. Le cross-country aura lieu lundi sur le site de Beas River et les chevaux seront de retour sur le site équestre principal de Sha Tin, mardi pour la phase finale, le saut d'obstacles. Les médailles par équipe et en individuel seront attribuées mardi, à la clôture de la compétition.

Après la phase de dressage, le Canada détient le neuvième rang sur les onze nations ayant délégué une équipe de concours complet. Le score de l'équipe est de 153,20. Chaque équipe est formée de cinq couples cavalier-cheval et les trois meilleurs résultats de ceux-ci comptent en vue du score final de l'équipe. C'est l'Australie qui détient l'avance avec 102,80 points de pénalité, suivie de l'Allemagne avec 110,50 et les États-Unis sont troisièmes avec 115,60.

Au classement individuel, l'Australienne Lucinda Fredericks occupe le premier rang avec 30,40 points de pénalité en dressage sur Headley Britannia. La Belge Karin Donckers est deuxième (31,70) sur Gazelle de la Brasserie, tandis que l'Allemande Ingrid Klimke se classe troisième (33,50) sur Abraxxas.


Jeux olympiques 2008
Classement provisoire individuel en concours complet suite au Jour 2 en dressage


Cavalier Pays Cheval Score
1. Lucinda Fredericks Australie Headley Britannia 30.40
2. Karin Donckers Belgique Gazelle de la Brasserie 31.70
3. Ingrid Klimke Allemagne Abraxxas 33.50
4. Megan Jones Australie Irish Jester 35.40
5. Rebecca Holder États-Unis Courageous Comet 35.70
6. Clayton Fredericks Australie Ben Along Time 37.00

20. Selena O'Hanlon Elgin, ON Colombo 44.10
28. (à égalité) Michael Winter Toronto, ON Kingpin 48.90
58. Sandra Donnelly Calgary, AB Buenos Aires 60.20
61. Kyle Carter Calgary, AB Madison Park 63.50
66. Samantha Taylor Richmond, BC Livewire 70.70