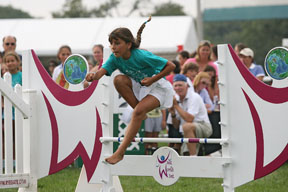 The Horseless Horse Show was held during the Hampton Classic Exhibitor's Party for the benefit of JustWorld International.
Photo by ESI Photography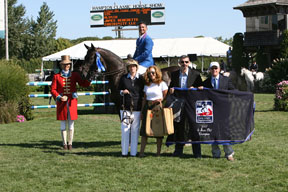 JustWorld Rider Ambassador James Benedetto rode Alsvid to victory in the Six-Year-Old Young Horse Final at the Hampton Classic Horse Show.
Photo by ESI Photography
September 6, 2007 – Bridgehampton, New York
– JustWorld International and its work with underprivileged children in developing nations was in the spotlight at the prestigious CSI-W Hampton Classic Horse Show held August 26 to September 2 in Bridgehampton, NY.
The Exhibitor's Party on Friday, August 31, was held in honor of JustWorld International, formed in 2002 to bring together the equestrian community and others with the goal of improving the lives of disadvantaged children in the developing world. The featured event of the Exhibitor's Party was a silent auction and the Horseless Horse Show, both of which raised funds for JustWorld International's projects in Brazil, Cambodia, Honduras, Kenya and Senegal.
Throughout the Hampton Classic Horse Show, referred to as the social event of the season in the Hamptons, JustWorld International raised interest and awareness through a variety of means. With approximately 20 Rider Ambassadors competing at the show jumping event including Kevin Babington and Candice King, the signature JustWorld International blue riding jacket could be spotted in various competition rings. Footage of recent visits to JustWorld project sites was played on the Jumbotron throughout the Hampton Classic and, with an information booth located near the entrance to the horse show office, volunteers were on hand to answer any questions and, of course, invite new Rider Ambassadors to 'Jump for a Just World'.
For Friday's Horseless Horse Show, Hampton Classic Horse Show Manager and Co-Course Designer for the 2008 Olympic Games, Steve Stephens, constructed jumps specifically designed to be jumped by human athletes. The course, which resembled a mini-prix, featured an open water jump and a liverpool as well as 'signature' fences for JustWorld International supporters including Chesapeake Petroleum. The Horseless Horse Show attracted more than 100 entries, with all entry fees going to support JustWorld programming. Approximately 500 people attended the Exhibitor's Party and cheered on the Horseless Horse Show contestants, and winners were rewarded with prizes from the stage production of Monty Python's 'Spamalot'.
"We were happy to partner with JustWorld International this year, and we were thrilled to have a fun attraction that enhanced our Exhibitor Party," noted Shanette Barth Cohen, Executive Director of the Hampton Classic. "When Jessica suggested having the Horseless Horse Show in conjunction with the Exhibitor Party, we thought it was a great idea. We had a fabulous turnout and we hope to do it again next year."
A silent auction was also held during the Exhibitors Party for the benefit of JustWorld International, with the majority of items being generously donated by Hampton Classic vendors. In addition to donating a mini-wardrobe of four pairs of shoes to the Silent Auction, Sam and Libby Edelman gave 10% of their sales at the Hampton Classic to JustWorld International.
"It was an honor to be a part of the Hampton Classic, and we are overwhelmed by the positive response and interest," said Jessica Newman, Executive Director of JustWorld International. "We are very thankful to the Hampton Classic and its organizing committee, headed by Shanette Barth Cohen, for everything they did to make the week successful for JustWorld International."
JustWorld International would like to extend special thanks to Topping Riding Stables for sponsoring the Exhibitor's Party, Steve Stephens Designs for building Horseless Horse Show jumps, Monty Python's 'Spamalot' for donating Horseless Horse Show prizes, the JustWorld Rider Ambassadors who donated their time, and the junior committee that worked to promote the Horseless Horse Show to the local riding stables. Thanks also to Board President Dennis Suskind, Carolynn Rockafellow, and Katie Quirk for their generous support.
Founded in 2002, JustWorld International raises awareness and funds in the equestrian community to support humanitarian projects that benefit impoverished communities and children in the developing world. Cooperating with local partners, JustWorld International implements sustainable, culturally sensitive education, health and vocational projects. For more information on JustWorld International and its upcoming fundraising events, please visit
www.justworldinternational.org
.