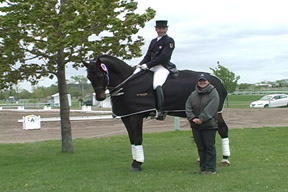 Advanced Champion Tom Dvorak riding Beaumarchais is congratulated by sponsor Patricia Da Silva of Ecogold at the Ottawa Spring Dressage Classic held May 18 to 20 in Ottawa, ON.
Photo by - Shadow Productions
May 22, 2007 – Ottawa, Ontario
– A record number of entries were reported as dressage came to the Nation's Capital for the Ottawa Spring Dressage Classic held May 18-20 at the Nepean National Equestrian Park in Ottawa, ON.
The Advanced division attracted the most attention as the Ottawa Spring Dressage Classic represented the final opportunity for riders to gain qualifying marks for the upcoming Pan American Games Selection Trials. A total of 29 entries contested Friday's Prix St. Georges with Evi Strasser of Ste-Adele, QC, emerging as the winner with a score of 69.00% riding Foto Tyme.
"I am very excited with my horse's performance, he was a superstar," said Strasser of her eight-year-old Westphalian gelding by Florestan I. "I wanted my horse to have a great experience since he is one of the youngest in the class, and he just walked into the ring and pulled it off. His paces are top quality, and his ability is world-class. I am very pleased and very excited!"
Gillian Sutherland of Unionville, ON, placed second riding Great Tyme, a 10-year-old Oldenburg gelding. The pair earned a score of 68.333% to stay in front of Andrea Bresee, 31, of Brockville, ON, who was third with 67.667% riding the 13-year-old Swedish Warmblood mare, Raffles.
On Saturday, the day belonged to Tom Dvorak of Hillsburgh, ON. Having won the morning's Prix St. Georges competition with a score of 66.250%, Dvorak and Beaumarchais also emerged victorious in the Intermediaire I in the afternoon. All three of the judges agreed that Dvorak and the 12-year-old Hannoverian gelding owned by Susan Holden were the winners, awarding him the highest score of the day, 69.083%. At the end of the weekend, Dvorak's consistency with Beaumarchais was rewarded with the Advanced Championship title while Bresee was named the Reserve Champion.
Bresee finished in second position in the Intermediaire I with a score of 68.333% riding Raffles, owned by her trainer, Gina Smith, and long-time supporter, Faith Berghuis. Diane Creech of Caistor Centre, ON, finished third with a score of 67.750% riding Wiona, a 10-year-old Hannoverian mare owned by Doug and Louise Leatherdale.
Sunday's Intermediaire Freestyle saw Creech ride away the winner as one of only two competitors to break the 70% barrier. Riding Wiona, Creech earned 70.500% to take the win over Jacqueline Brooks of Mount Albert, ON, who earned 70.083% riding Balmoral, an eight-year-old Canadian-bred gelding owned by Anne and John Welch, Nick and Jean Vimos, and Brink Ltd.
"She was really good, she is such a wonderful girl," said Creech who was performing her Freestyle composed by David Young for the first time in competition. "It was cold and windy, the weather had turned from being warm and sunny, and a lot of horses reacted to that. But Wiona is getting more and more dependable and focused on doing her job. She enjoys it, and for me it was really fun."
Local competitor Susanne Dutt-Roth of Merrickville, ON, was the only entry in the Grand Prix division. Riding her own Rheirattack, an 11-year-old Canadian Sport Horse stallion that she bred herself, Dutt-Roth earned a Grand Prix Special score of 60.867% in her Grand Prix debut.
In the Young Horse divisions, Neil McIntosh won the Five-Year-Old Final with a score of 81.00% riding the flashy bay, Argo Conti Tyme. The licensed Oldenburg stallion by Argentinus was purchased in Germany in 2005 by Evi Strasser. In the Six-Year-Old Final, Lee Tubman of Smithville, ON, presented De La Rosa for a winning score of 80.800%. The dark bay Hannoverian mare is by De Niro and is owned by Ducat Developments.
In the Young Riders' division for competitors aged 16-21, Brittany Fraser made a clean sweep, winning the Team test with 66.667%, the Individual test with 66.417%, and the Freestyle with a score of 68.083% riding Furio.
Although Jamie Holland won the FEI Junior Team test with a score of 64.667% riding Fleurina, it was Jade Deter who claimed the FEI Junior Individual test, scoring 66.667%, and the Freestyle with an impressive 73.833% riding Mastermind. Deter trains with well-known Ottawa-area coach, Ruth Koch, at her Oxford Ridge Stables in Oxford Mills, ON.
Having dominated the first two days of competition in the FEI Pony division, Tatiana Turcotte was caught by Alexandra Dvorak, daughter of Canadian Olympian Tom Dvorak, in the Freestyle. Riding Ronja, Dvorak earned a score of 69.667% to take the win over Turcotte and Serenity's Dream On who scored 67.667%. In the FEI Children's Division, Kerry Houlahan came out on top riding Fresco.
"Overall, we saw a high degree of competition across the board," said Cara Whitham, President of Equivents, Inc., Canada's largest producer of dressage competitions, clinics and symposiums. "The fact that our advanced level riders were fighting to earn their scores for the Pan American Games Selection Trials made it that much more exciting. In addition, the new lay out of the competition rings and location of the secretary's office was met with unanimous approval from the competitors. We look forward to more great competition at our international show in June."
Equivents Inc. presents the CDI3* Ottawa Summer Classic from June 21-24. For more information, please visit
www.equivents.com
. Complete results can also be found at
www.foxvillage.com
.
---
Ottawa Spring Dressage Classic - Ottawa, ON

Intermediaire I - Final Results

Rider Hometown Horse Score
1. Tom Dvorak Hillsburgh, ON Beaumarchais 69.083%
2. Andrea Bresee Brockville, ON Raffles 68.333%
3. Diane Creech Caistor Centre, ON Wiona 67.750%
4. Ute Busse Breslau, ON Lindor's Finest 67.167%
5. Jessica Costello King City, ON Renoir 66.417%
6. Jacqueline Brooks Mount Albert, ON Balmoral 66.167%
7. Tom Dvorak Hillsburgh, ON Fortissimo 66.000%
8. Simone Williams Ottawa, ON Wunder Ein 64.167%
9. Liz Steacie Brockville, ON Mikayla 63.417%
10. John MacPherson Georgetown, ON Jacardo 63.333%
Intermediaire I Freestyle - Final Results

1. Diane Creech Caistor Centre, ON Wiona 70.500%
2. Jacqueline Brooks Mount Albert, ON Balmoral 70.083%
3. Gillian Sutherland Unionville, ON Great Tyme 68.500%
4. Tom Dvorak Hillsburgh, ON Fortissimo 68.250%
5. Jessica Costello King City, ON Renoir 66.583%
6. Chris Sanders Port Stanley, ON Van Gogh 64.167%
7. Simone Williams Ottawa, ON Wunder Ein 64.000%
8. Annaliese Farber Bewdley, ON Harvard 63.750%
9. Tom Dvorak Hillsburgh, ON Beaumarchais 61.333%
10. Armand Valkenborg Hudson, QC Seigneur 61.250%