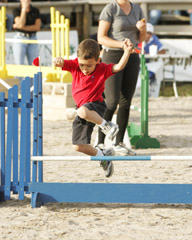 Five-year-old Maximilien Betaille clears an obstacle in the Horseless Horse Show.
Photo Credit - Sportfot
Winter Equestrian Festival Horse Show Manager, Steve Stephens, placed second in the Senior Invitational.
Photo Credit - Sportfot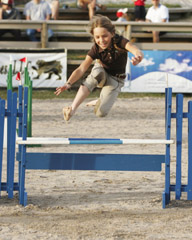 Children of all ages enjoyed competing for fun in the JustWorld International Horseless Horse Show.
Photo Credit - Sportfot
February 28, 2007 – Wellington, Florida
–
JustWorld International hosted its second annual Pony Pals Horseless Horse Show on Saturday, February 24, during the Winter Equestrian Festival in Wellington, Florida.
Children of all ages had the opportunity to test their abilities jumping courses during the fun and entertaining late afternoon event designed to raise funds and awareness for JustWorld International. JustWorld International is a not-for-profit, humanitarian organization founded to work as a catalyst for positive change in the developing world by helping underprivileged children, making fundraising activities designed for children a perfect fit.
A variety of 'classes' were offered for the human athletes including the Mini Stirrup, Short Stirrup, and the popular Children's Jumper division that attracted 32 entries. Eight teams entered the Costume Relay, and 25 individuals tried the Puissance class with Christina Kelly, who had contested the FEI Children's Qualifier earlier in the day, emerging the winner after clearing an impressive height of 4'6". The competition was not limited to children - Hector Cano won the Senior Invitational after edging out 2008 Olympic course designer, Steve Stephens, and well-known equine dentist, Mike Lawrence.
International course designer Jose 'Pepe' Gamarra designed the courses, using jumps loaned for the event by Beval Saddlery Ltd. In addition, Beval generously donated a jump that was raffled for the benefit of JustWorld International. La Peche Market provided refreshments for the event, which were especially appreciated by the participants after completing their courses.
"I was thrilled to see so many children participate in the horseless horse show. Besides being a lot of fun for everyone involved, it goes along with our philosophy of 'kids helping kids'. This is one way we can empower children in our community to help children who are in need in other parts of the world," said Jessica Newman, Executive Director of JustWorld International.
Special thanks to all the volunteers who enthusiastically donated their time. Helping to make the event a great success were Derek Braun, Christophe Carvonis, Abigail Cooper, Angela Covert-Lawrence, Constance D'Ambra, Nick Dello Joio, Julie Fisher, Jaime Garcia, Isabel Jolicoeur, Michelle Morosky, Michael Morrissey, Denise Quirk, Katie Quirk, and Renick Townsend.
The Horseless Horse Show was just one of several fundraising and awareness building events that JustWorld International has hosted this winter. On January 20 and 21, the Fourth Annual JustWorld International Fundraising Dinner and Training Show took place at Belle Herbe Farm while a Hunter Training Show was held at the same location on February 20. In addition, riders may train on the grass field at Belle Herbe by appointment and make a $150 donation to JustWorld International. Over the past four years through its fundraising endeavors, JustWorld International has raised almost $2 million for its project sites in Honduras, Cambodia, Kenya, Senegal, and Brazil.
JustWorld International is organizing visits to its project sites in Honduras from March 20 to 25 and in Cambodia from April 24 to May 1. For more information, please contact Astrid Corvin-Brittin at 561-797-6216.
Founded in 2002, JustWorld International raises awareness and funds in the equestrian community to support humanitarian projects that benefit impoverished communities and children in the developing world. Cooperating with local partners, JustWorld International implements sustainable, culturally sensitive education, health and vocational projects. For more information on JustWorld International and its upcoming fundraising events, please visit www.justworldinternational.org.